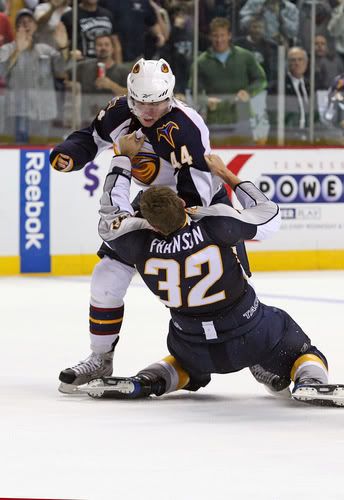 Arturs Kulda has a message for a Mr. Mike Brophy... hold please.
While thumbing through the list of
Puck Daddy links du jour for this afternoon
, I stumbled across a
link to an article by Mike Brophy of Rogers Sportsnet
. I know that they're not TSN or HNIC, but I enjoy their coverage of the sport and I have usually found them to be remotely knowledgeable about teams outside of their comfort zone.
Until I read this article detailing what teams in the Eastern Conference need at the deadline (I admit, I stopped reading after the summary on the Atlanta Thrashers - it was so bad, there was no recovering from it). It's just misguided and cobbled together from old talking points from two seasons ago, and an assumption that since we traded Lehtonen we have no goaltender. Oh, and without Kovy we must find a superstar! Because we played so much better with him than we have so far without him.
Anywho, this is what bothered me: "The Thrashers are thin on the blueline and an upgrade in net wouldn't go unnoticed. Frankly, the Thashers need help everywhere."
Wait, what? We have five top 4 defensemen (Bogosian, Hainsey, Kubina, Enstrom, Oduya) and Schubert and Valabik, as well as Popovic as the 6th. We also have between 7 and 10, as Ben Wright chimed in on Twitter with, who will be fighting tooth and nail to join the big club. Not looking at anyone beneath the AHL - despite how good they are, and they are good, it's still a long shot for them to make the jump - our defensive corps are pretty stacked. There's always the
AHL player of the week
, Paul Postma, who just lit the lamp for a hat trick against the Rampage on Sunday night. There's Noah Welch, who is a +13 for the season. And, of course, there's Lewis and Kulda, who are our two top ranked defensive prospects. While not having an amazing year +/- wise, last season and the season before last Lewis was a +17 and +16 respectively. Kulda got a chance to team up with his old Petes defensive linemate Zach Bogosian for some pretty solid play before the Olympic Break. Oh, and he's a +
37
for the year. Yepper. Suuuuuch a lack of defensive talent. We should trade the farm away for another blueliner! Riiiiight. Anyone who can go to
HockeysFuture.com
can see that our prospect system's
one of the best in the league
, especially at defense and goaltending (Mannino? 18-3. MacIntyre? 16-11).
Listen, Mike, I appreciate the fact that you got and enjoyed our 2007-2008 media guide. I have a copt of the 2009-2010 one lying around here somewhere that you're more than welcome to borrow, so you can have some talking points a few seasons from now.